The Jacksonville Police Department has charged a second person in the shooting death investigation of William Joseph Clifton. At approximately 4:00 PM today, Caitlyn Emily Ridgeway, 18, of Jacksonville was charged with Murder. She was taken into custody without incident.
The body of Mr. Clifton, 48, of Richlands, was found at 6:30 AM on Friday, July 7, 2017 in Woodlands Park. Will James Welch, Jr., 18, of Jacksonville was charged with an Open Count of Murder on Friday, July 14, 2017 in connection with the incident. He is held without bail.
"Jacksonville Police Detectives and NCIS Carolinas Field Office Special Agents have worked this joint investigation together since the morning of Friday, July 7 and conferred regularly with the Onslow County District Attorney's Office" said Captain Ashley Weaver, JPD Investigative Services Supervisor. "We do not anticipate additional arrests. The investigation is open and we are unable to release additional information at this time."
"We appreciate the assistance of the NC State Bureau of Investigation and the Onslow County Sheriff's Office for their assistance in this case" said Chief Mike Yaniero, Director of Public Safety.
The reward for information in this case could total up to $5,000. The Jacksonville Police Department has added a $2,500 to the Crime Stoppers reward for information about the shooting.
Anyone with information about the incident is asked to contact JPD Detective Daniel Karratti at 910-938-6410 or dkarratti@jacksonvillenc.gov or Crime Stoppers at 910-938-3273. Callers to Crime Stoppers can remain anonymous and never have to reveal their identities. Information can also be anonymously texted via Text a Tip by typing TIP4CSJAX and your message to 274637 (CRIMES)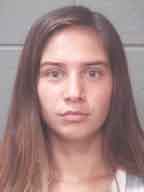 Caitlyn Emily Ridgeway, 18
723 Mallard Drive
Jacksonville, NC
No Bond